Aladdin
I always think making a production of such a well known and well loved film is risky. Lion King is pulled of exceptionally well on stage and so I was curious to see whether they had managed to execute Aladdin just as well. I might actually be the only person in the world who has never actually watched Aladdin and so I turned up to the Prince Edward Theatre with a vague expectation of magic carpets and genies and nothing more.
What is it all about?
I was delighted when I realised that Aladdin has a real panto feel. I love panto time of year and I am always a little sad when it's over so it was great that I got to laugh at the usual panto humour in the middle of the summer! The American's might not be known for their panto but they managed to capture all of it's elements in Aladdin. From overly camp characters to fourth wall breaking jokes, they had it all! I am always a fan of a very dramatic hate-able villain I can boo off stage. It's a summer time panto with a huge budget!
Is it a good laugh?
As these types of shows typically are, it was fairly cheesy in parts and overly dramatic, but not too much so. It was good fun, full of humour and put a real smile on my face (and seemingly everyone else in the audience too.). Just to give you a little taste of what exactly I am talking about, the line "one of these days I'm going to be stinking rich" is met with a witty "you're already half way there."
How is the cast?
The genie is fabulous and by far my absolute favourite character. He steals the show and was cast perfectly in my opinion.
What about the set?
The set is as beautiful as you would imagine with such a large budget. There is of course a flying carpet which looks impressively real but of course you would expect nothing less. The carpet flying around the stage combined with the performance of "a whole new world" made for my highlight of the night.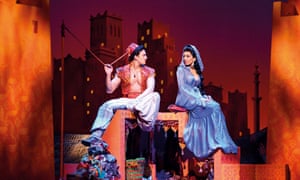 So, does it match up to the Lion King?
As I said, with the Lion King gracing the West End stage too, it's got tough competition when it comes to Disney on stage. Whilst I did thoroughly enjoy Aladdin, I don't think it quite matches up to the Lion King. The costumes and set of the Lion King are pretty unbeatable.
Who should go and see it?
This is a fabulous West End show to watch as a family. There were people of all ages in the audience. The kids clearly loved it as much as the adults judging by the continuous applause and laughter. It is a lighthearted take on a Disney classic which makes for a really nice night. If only the Lion King didn't set the bar so high!
Where can I get tickets?
If you would like to go and see Aladdin it is currently showing at the Prince Edward Theatre until the 11th of February. The nearest tube station is Tottenham Court Road and you can get your tickets HERE.
Photos courtesy of The Guardian
Comments