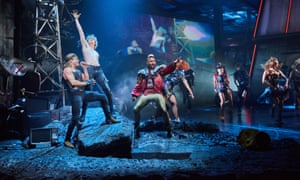 Until the 22nd of August the London Coliseum, often a venue bursting at the seams with opera, is hosting Meatloaf's Bat Out of Hell. The show by Jay Scheib first graced theatres in Manchester before heading down to London's West End to shake up the London Coliseum.
What is it all about?
Set in Manhattan, Bat Out of Hell is a bit of a romance. Motorbike riding Strat is a bit of an immature rebel and the story revolves around his love of unlikely Raven. There's definitely a hint of Romeo and Juliette with some leather and guitar riffs thrown in. Unfortunately I did feel that there was a lack of story throughout but if you're a fan of Meatloaf, the music will make up for that.
The music
The music uses songs from all three albums and oozes sex appeal. With many of Meatloaf's songs being at the more dramatic end of the scale with their elaborate narratives, it could be argued that they were destined to make it into a musical. Personally, I am not a huge fan of this genre of music which makes me a little bias. I came out the London Coliseum with a slight headache and ringing in the ears. Some of the people around me loved it though, singing along to all the words with the occasional air guitar sequence from their seat. It's a matter of taste at the end of the day.
Set and costumes
Visually, the show was pretty cool. There was fire which made my face burn as much as my poor ears. The set is crazy and beautiful in a colourful carnage kind of way. The grungy set, combined with the skinny jeans and leather jackets made for astonishing viewing.
The cast
One thing you cannot fault is the performance of Strat, played by Andrew Polec. I honestly could not say a bad word about his performance, his voice is unreal. The chemistry between Strat and Raven made me feel like I was watching two people genuinely fall in love for the first time. To be able to perform something twice a day, every day, and still make it look raw and exciting – that is impressive!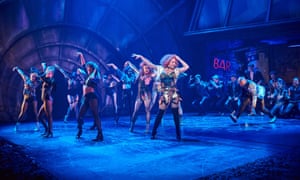 Who should go and see it?
Bat Out of Hell is definitely different and definitely crazy. If you're a fan of the music, I cannot recommend this enough. You will absolutely love it. If this kind of music isn't for you though, perhaps give this one a skip. I would avoid taking young children too as the music is VERY loud. Chairs vibrating in time with the bass kind of loud.
Where can I get tickets?
If you would like to go and see Bat Out of Hell it is showing at the London Coliseum until the 22nd of August so be quick! The nearest tube station is Leicester Square and you can get your tickets HERE.
Photos courtesy of The Guardian
Comments