Bodies
Bodies: a show I have never heard of, taking place at the Royal Court Theatre, a smaller theatre I have never set foot in. With shows like this, things can go one of two ways. They can end up being incredible and you walk out of the theatre thinking "why the hell doesn't everyone know about this?!" Or you leave the theatre realising exactly why everyone doesn't know about it. Luckily, Bodies ended up being the first of those two possibilities!
What is it all about?
Bodies is written by Vivienne Franzmann a playwright who tackles serious social issues on stage. Bodies follows the story of Clem and Josh, a married couple who are desperate to have a child. After paying £22000 for an egg donor, they then have a lady in India carry their child. It highlights not only the more ethical issues of alternative methods of conception but also the difficulties the couple face when the pregnancy approaches and things aren't as straight forward as they planned. They tackle unplanned issues arising and the disapproval of family members to name a few.
What issues arise?
Clem becomes increasingly estranged from her father who has motor neuron disease who does not agree with what she is doing. She struggles to understand his deteriorating speech and he clearly gets on with his carer better than his own daughter. Clem's conversations with her yet to be born daughter are particularly intense and hard hitting. She struggles between her desperation for motherhood and the love she has to give to her daughter and the morality of the whole process she is going through.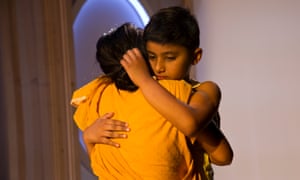 Did I enjoy it?
Whilst intense given the issues Bodies raises, I love a show that makes you think and opens your eyes to other situations and so I adored all 90 minutes of this. I think it's great to see an insight into the life of others in a way which is insightful yet entertaining and still makes for a lovely, yet educational evening.
How are the cast?
All characters, but particularly Clem and Josh, are very real. Their emotion feels raw and you feel their struggles and their pain almost as if you knew them personally. At times I forgot I was even at the theatre.
Where can I get tickets?
Bodies is only showing at Royal Court until the 12th of August so you need to be quick to grab tickets for this one. I cannot recommend it enough if you're looking for something a little thought provoking. The Royal Court is right next to Sloane Square station making it super easy to get to. You can get your tickets HERE.
Photos courtesy of the Guardian
Comments