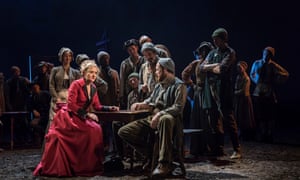 I absolutely love the theatre and so finding a show I don't enjoy is almost impossible. I love being in the beautiful environment of a theatre so much that for me to think something is bad, it must be pretty bad. Unfortunately, I wasn't a huge fan of this one.
What is it all about?
Common is set in the early 19th century at a time where society is full of technological changes dividing the rich and the poor (and in turn dividing the town). Main character Mary (played by Anne-Marie Duff) is a con-artist fortune teller who arrives back in her home town from London. Her home town is a tiny village in revolt at plans for land closure. Unlike in London where things are going 100 miles an hour in terms of industrial advancement, her home town are at war amongst themselves over the change.
Is it really that bad?
There were parts where to be honest, I had no idea what was going on. There were a lot of ideas and sometimes it wasn't clear where things were going or how concepts fitted together. I could definitely sense a bit of confusion in the audience over what was happening.It was often a bit muddled and all over the place. At first I thought I was just having an off day and my brain wasn't following the show, but in the internal I got chatting to a lady who simply asked me, "what the **** is going on in there?!" I couldn't help but laugh – she said what we were all thinking!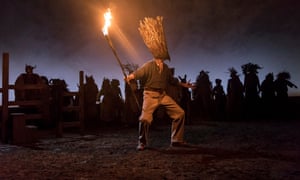 At one point Mary rises from her grave and starts talking to a crow. I wasn't sure if I was crazy or whether the show was crazy. Then again, it's probably a bit of both. There were times when the olde worlde speech was hard to follow too. I'm not even sure the cast knew what they were saying. I think they might have been just as confused as the audience.
Does it have any good bits at all?
While Common has the occasional good moment where I thought it was about to breakthrough into something great. I think the concept was a good idea. However, the actual execution of the idea was pretty poor. It is baffling from start to finish and very hard to follow. I love leaving the theatre with either a real feel good vibe or having learnt something and had my eyes opened. It's fair to say I didn't feel either of these things when walking out of Common. It was a bit of a struggle to watch it to the end to be honest. I can now see why Common received so many one and two star review unfortunately. Such a shame!
I am still intrigued, how can I get tickets?
If you would like to see the show you can get tickets HERE. It's showing at the beautiful Olivier Theatre. The nearest tube station is Waterloo.
Photos courtesy of The Guardian
Comments