Stomp
Stomp is one of those shows that just about everyone has heard. This is thanks to it's longevity and ability to occasionally make it's way onto day time TV for one reason or another. It is a unique show containing no words and to put it simply – lots of noise! It might just be the best noise you ever hear though. Set on a building site, the dirty looking characters make noise using any prop available. For isntance their work boots and dustbin lids become instruments in the most phenomenal way. My favourite part of the show is when the floor of the stage is covered in sand and doubles as a snare drum. It is fantastically clever and keeps you engaged throughout. To do that without dialogue is always impressive.
Lack of words however, does not mean lack of character. Each performer has a personality and set of mannerisms that comes across through their "stomping" and you really do warm to them. The cast of Stomp are what make the show so great. They swing from scaffolding whilst drumming out incredible beats with poles and brooms like it's nothing – I definitely couldn't do it! The choreography is perfectly tight and you can see the amount of hard work and effort each of the cast has put into the show. You can see the passion for it in every move they make. The energy never dips and you will be on the edge of your seat with excitement all the way through. They even throw in a few jokes. When they say this show is bursting with energy, they really do mean it!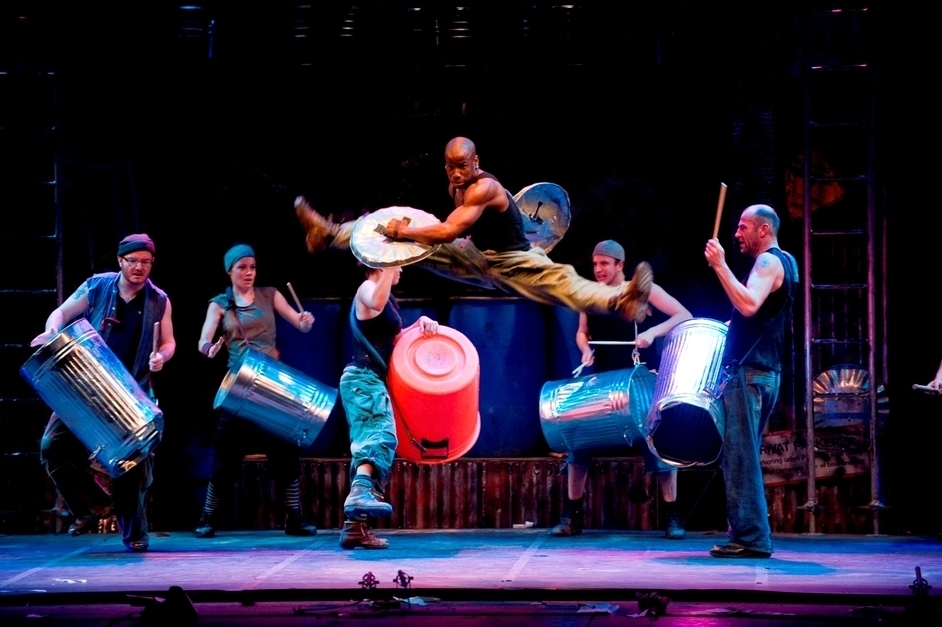 Is it worth seeing?
Some will say it's all a bit too repetitively noisy and that the jokes are childish but Stomp isn't the most serious of shows. It is meant to be a bit of fun. It is the kind of lighthearted show you go to watch with your family and friends when you want some good, fun, entertainment. If you want to watch something intense and meaningful, this show might not be for you. Above all, I would most definitely recommend it. Stomp has been around for 25 years for a reason.
Who is it for?
Ultimately would definitely recommend the show for families. Perhaps not if your children will be scared by loud noises though! In my opinion it's also ideal for those who don't speak English. Anyone and everyone can enjoy a show where the jokes are based on actions and not words. There is therefore definitely a certain beauty in in that. Being able to enjoy a piece of theatre and laugh alongside those who don't speak a word of the same language. Normally you would struggle to communicate, now you are laughing together. I admire Stomp's ability to bring everyone in the room together like that.
Where can I see it
If you would like to go and check Stomp out for yourself it is currently on at The Ambassador's Theatre on West Street in London's West End. You can buy tickets up until January 2018 and of course it's a great Christmas present! If you're ready to be blown away by 1 hour and 40 minutes of incredible theatre, you can get your tickets HERE.
Photos courtsey of London Theatre Direct and Love Theatre
Comments