What's new at the Gielgud Theatre?
After The Curious Incident of the Dog in the Nighttime ended, I was curious as to what would replace it at the Gielgud Theatre. The Ferryman did not disappoint. The new play written by Jez Butterworth has been a real hit and I can see exactly why. If there are two things that people love in theatre, it's animals and children. Well, The Ferryman has both!
What is The Ferryman all about?
The Ferryman is set in the 80s on a farm in Northern Ireland and follows the life of a family during the Troubles. It starts with a body being found belonging to Seamus who has been missing for 10 years. Due to the finding of the body, trouble arises in his brother Quinn's life. Despite seeming to have his life together, he has an ugly past which resurfaces. The play explores the idea of secrets, love and politics. Despite moments of realisation where Quinn's love of both his wife and his sister-in-law emerge igniting mixed feelings, you can't help but sympathise with his situation. There is something beautiful and heartwarming about the love that goes unspoken between the three of them.
What is this ugly past?
Quinn is a reformed IRA activist attempting to celebrate the harvest festival on his farm with his family. However, with a combination of his brother's body showing up and the arrival of an unwanted guest, this is easier said than done. The Ferryman is one of those plays with a variety of hard hitting and very real themes running throughout. It's also a really good reminder of the history of Northern Ireland. I heard one lady on her way out explaining the truths of the show to her son who was questioning whether it was a true story which I think was really heartwarming, albeit a little sad.
Did you say animals?
Due to rabbits, geese, and a baby gracing the stage, there were many audible "awww"s.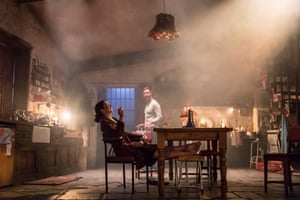 Who should go and see it?
At over 3 hours long, The Ferryman is maybe not suitable for younger children. It seemed to have an older audience, perhaps those who remember the events in Northern Ireland themselves. Equally though, for those born after the 80s, it could be a good educational experience!
Where can I see it?
The Ferryman is at the Gielgud Theatre until the 7th of October. The nearest tube station is Piccadilly Circus and you can purchase your tickets HERE.
Photos courtesy of The Guardian
Comments