The Girls
Gary Barlow of Take That has joined up with Tim Firth to create The Girls, a musical based on 2003 film Calendar Girls. Calendar Girls is actually based on the true story of some wonderfully brave Yorkshire ladies who stripped off for a Women's Institute Calendar in otder to raise money for the funeral of one of their husbands.
Before I went to watch The Girls, I must admit I was expecting nudity from the moment the curtain was lifted. After all, that's pretty much how it went in the film. However, The Girls takes time exploring the complexity of each characters inhibitions before an ounce of flesh is shown. I feel that this gave it much more depth and gave the story time to develop.
What is it all about?
If you are wondering what exactly this show is all about (other than nudity), it follows the story of Chris. Chris wants to raise some money for a hospital that is close to his heart. Chris is willing and ready to strip for the calendar but her friends are less enthusiastic.This is where the overcoming anxiety, fear and all sorts of other underlying issues behind the calendar begin.
I really enjoyed the way each character had her individual moment to tell her story. Rather than one lead cast member and lots of backing members, I felt we got to know each character separately. I ended up loving each of them and so enjoyed their overcoming of obstacles such as alcohol dependence even more. At first glance you may think this is a show about some women stripping off albeit for charity. However, as I sat in my comfy theatre seat I realised how much more to it there was. There was something very real and relatable about the characters which made this one of my favourite shows I've seen all year.
How is the music?
I didn't know any of the songs beforehand. One that really stuck out for me was a song called Dare. The lyrics go "find the rules you knew and break them/ find the roads you knew, don't take them." I think this line alone sums up what The Girls is all about. I came out of the theatre feeling, dare I say it, full of girl power and ready to take on the world.
How are the cast?
The cast are beautiful and radiant. Their joyous attitudes are absolutely contagious.
Who should go and see it?
This is definitely one for the ladies. The audience was largely full of ladies the same age as the cast, in groups celebrating various things. If you're looking for a girls night out whether that be with family, friends or colleagues, this is the perfect show for you to watch!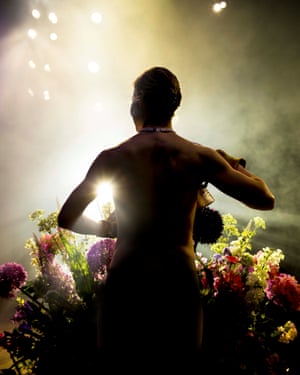 Where can I get tickets?
The Girls is currently on at the Phoenix Theatre until the 22nd of April. The nearest tube station is Tottenham Court Road and you can purchase your tickets HERE.
Photos courtesy of The Guardian
Comments